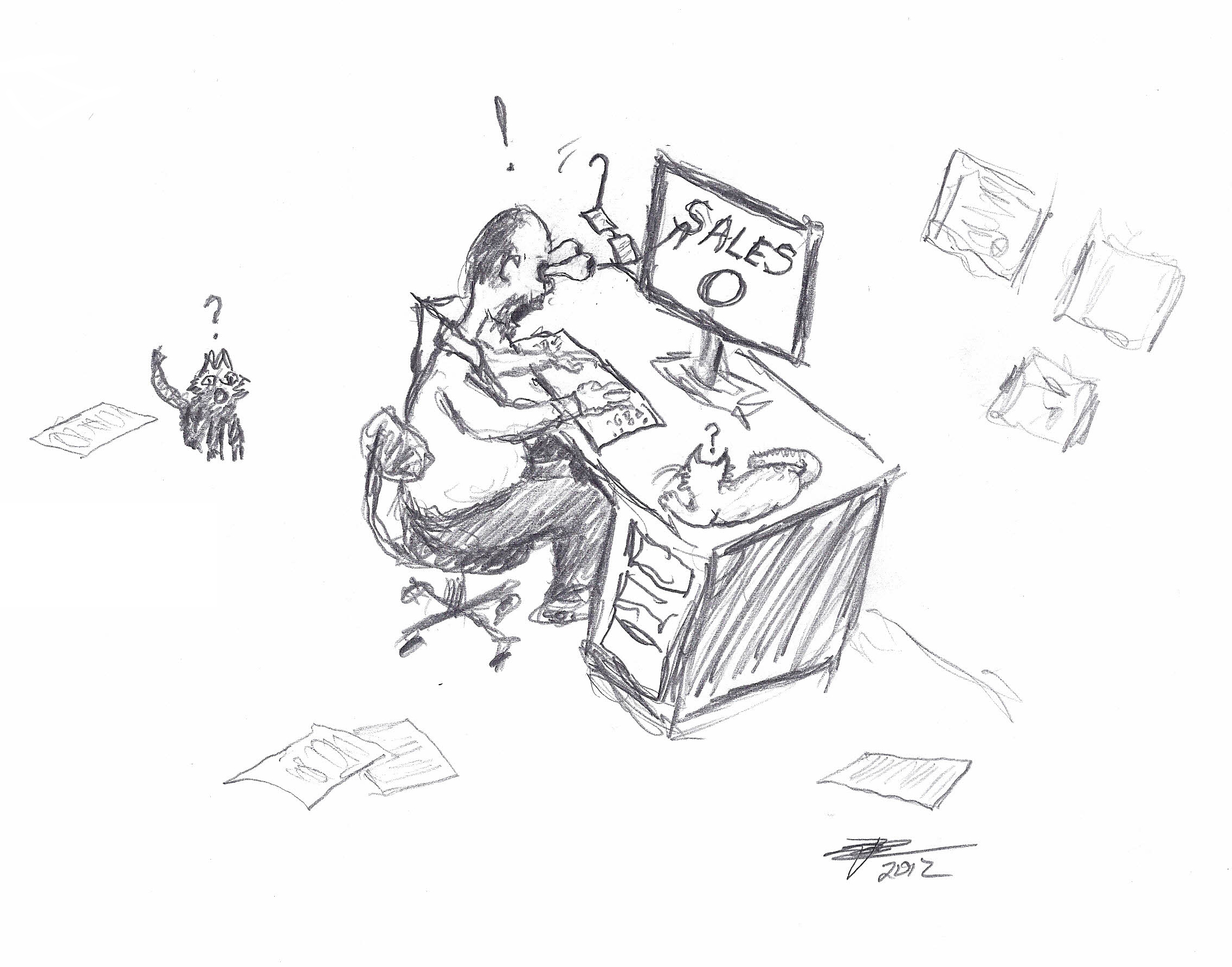 So there I was, minding my own business—literally, I mean, selling books is my business, and I mind when they don't sell—and poof, books just stopped selling all of a sudden. The Galactic Mage has been blowing off the e-shelves for weeks, and, Tuesday morning I got up and checked and, somewhere in the night or early morning, sales just stopped. Cold. From light speed to the brick wall in zero seconds flat.
Must be a glitch, I thought. Surely I couldn't have sold NOTHING. I mean, I know the book won't stay up in the top ten forever, but from top ten to total death over night? That seemed a bit severe.
I went and got something to eat, answered some emails, and then, before digging in to book two, I checked again, just, well, because it's like a nervous twitch or something to look in on sales anyway. I can't help it. There's a lot riding on it at my house… my wife insists that we feed our children AND our cats. I swear, that woman is soooooooo demanding… so I check. Well, nothing. Not one copy sold still. Probably a glitch, I reminded myself. So, whatever. I started writing.
Sometime later I came up for air and thought, I better have sold something by now.
I hadn't. Nothing. Not one copy.
I was like, "Holy crap!" Something was going on. Clearly the universe had turned against my book. I just knew it. It was a conspiracy. The whole book industry conspired to take me out, a great universal cabal to block me, even an alien plot to starve out my kids and my wife's cats… whatever it was, we were under siege!
I waited another half hour. Looked again. Still zip.
The evidence of the cabal was in. THEY were out to get me! I didn't know who they were, but it was definitely them. Definitely.
Then I noticed the "buy this book now" button was gone on the Amazon screen.
I hit refresh a couple of times. It was still gone. There was literally no way to buy it.
Now it is certainty, I thought. Amazon hates me and wants to starve my cats!
But, reason kicked in. Reason suggested I go look to see if there are other books with no buy buttons on them either. Lo and behold, there were. I went straight to the top too, looked to see if The Hunger Games had a buy button. It didn't. Nothing did (at least none of the eight or nine titles I clicked through next did).
So, I relaxed. Some. At least it wasn't a secret plot of the universe to get me.
The upside is, the button came back shortly after that. I'm sure some programmers in the Amazon IT department were in a frenzy to get it back up. I can't imagine how much money that three or four hours cost them (or however long it was, I don't actually know because I was asleep when the problem began), but I bet it's a lot. Which is also why they got it fixed so fast. Fast is relative to the scale of the repair, obviously, but I imagine several hours of science fiction and fantasy ebook sales equals bank for Amazon.
So, anyway, that was my technology mini-nightmare. I suppose it counts as irony when your science fiction story suffers a technological attack. Or else it's just plain appropriate. Either way, I'm just glad the universe isn't trying to take out my wife's cats. That just seemed like overkill, you know? A whole universe versus two fluffy little animals? It's just wrong.