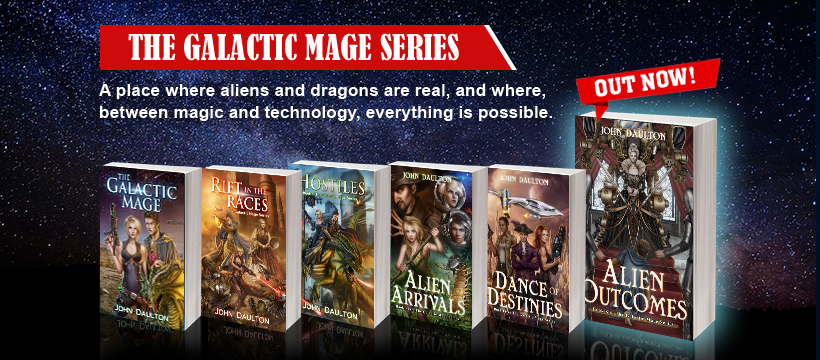 TGM 7 – A TRICK IN TIME (PROGRESS UPDATES HERE)
Yes, I plan to write more Galactic Mage Series books. No, I don't have a release date. I have two more prequels outlined. I recommend reading the first prequel if you have finished Alien Outcomes, and still want to spend some time in the TGM universe. Ilbei Spadebreaker and the Harpy's Wild is HERE. The series order as I envisioned they'd be read is: books 1-6, then the 3 prequels, then the final 3 books, as technically book 6 finishes my original story idea.
The last three (TGM 7, 8, and 9) are outlined, but the way I see them, they actually take place after the prequels. I know that seems weird, but the 3 prequels and books 7-9 are in essence, the next 6 books in the series in terms of reading order. I don't have plans beyond the 12 books, but who knows. Hopefully that all makes sense.
I am currently working on a new series (working title Star Cluster 66 Series), so I have no release dates for anything, not for the first book in the new series or for the next prequel. The plan is to write the second prequel when I am finished editing book 1 of the Star Cluster 66 series, which is very close to being done. All I can tell you is I am writing books.
The truth is, I write as quickly as I can while having a day job. If you want to speed things along and get me out of my day job, consider helping out via My Patreon Page, which I have finally been convinced to start. Right now it's very pathetic and empty, like a musician playing offkey on a street corner and nobody has even thrown a quarter in my guitar case yet. Hah. But I was advised to make one, so I did.
Or if not Patreon, I can tell you leaving a review on each of my books, preferably a good one, makes a really huge difference too.
Get Notified of Next Galactic Mage Release
If you want to be notified of new releases, author events, or the occasional giveaway, sign up for my newsletter: NEWSLETTER SIGN UP
UPDATES
1/4/2022: I will post updates from time to time here. But check my blog or the Galactic Mage Facebook page first, as I will be working on the new series for a while before starting on TGM 7. This spot is for TGM 7 updates specifically.
Sign up for author news and future releases HERE.