ILBEI SPADEBREAKER AND THE HARPY'S WILD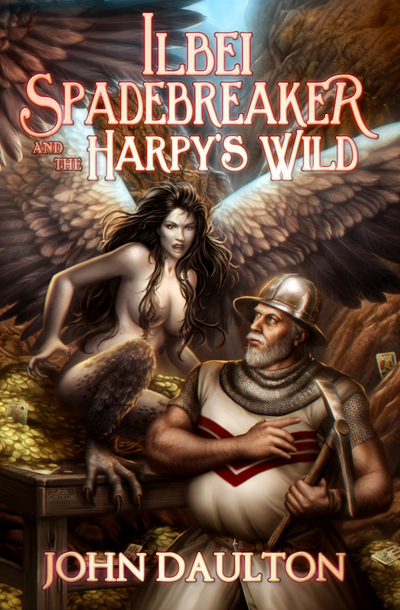 Ergo the Skewer and his band of bandits plague the mining community of Three Tents. The locals, trying to scratch bare livings from a stingy mountainside, can't endure much more. They've tried to fight back, but they are not warriors, and the Skewer is brutal and cruel. What was once a proud, if humble, way of life has now become one of desperation and fear. Many have fled. Only the stubborn remain.
Making matters worse, the harpies have returned. Some have been spotted in the skies. People are missing, and a woman is dead. It's one problem too many. Realizing they cannot save Three Tents on their own, the proud miners send for help, appealing to the army garrisoned in Hast. The army sends Sergeant Ilbei Spadebreaker.
With wit, pickaxe and a bit of brute force, the pot-bellied old veteran begins his work. He soon unearths layers of subterfuge far deeper than anything that can be dug up in a mine. What begins as a hunt for a band of brigands becomes a journey into the cavernous underworld of counterfeiting, corruption and conspiracy.
Ilbei Spadebreaker and the Harpy's Wild is a stand-alone prequel to the bestselling Galactic Mage Series. Whether you are familiar with planet Prosperion or heading there for the first time, the down-home, medieval style of fan-favorite Ilbei Spadebreaker will warm your heart and tickle your funny bone.