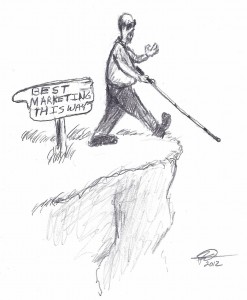 Well, the book is launched and it's selling far better than I had hoped, so I am very happy. My first sales goal was to try to get to 1000 copies sold before November (the earliest possible date for the sequel), because having that number—based on what I've read—is when The Galactic Mage will get into the Amazon system that recommends it to people who buy similar types of stories from other writers. I really didn't know how long hitting that number should take for a new writer with only one story out so far, but for the moment, it looks like it might be possible to beat that goal, maybe even by a lot. I'm crossing my fingers. (Well, except when I'm working on the next book, because it's too hard to type with my fingers crossed. Try it, you'll see.)
The "writer me" is thrilled it's selling so well. However, I have to say that the professional "marketing me" is pretty frustrated at not being able to tell where sales are coming from. Writing is one thing, but marketing is another. While it's fun to make jokes about how marketing is "all drinking and guessing," the reality is that metrics and tracking systems exist, and the uber marketers use them. Now, I'm not trying to say I'm an uber marketer, but I'm also not on my maiden voyage.
I've got ads running on Facebook; I've got traffic coming in from my Shadesbreath articles on HubPages; and I'm getting a lot of direct search traffic to the site. But I can't tie any of that traffic directly to unit sales. For example: while using the "Insights" feature of Facebook, I can see that I'm getting a spike in page views and "likes" on the page, but I can't tell how many of those views or likes went and bought the book (if any).
Another example: I can see on the Facebook ads reporting page how many impressions I have gotten, and I can even see the click through rate and action rate (clicks/likes) from those clicks, but again, I can't directly link any given action to a purchase.
Same goes for the traffic coming to my website from Shadesbreath on HubPages. I'm getting lots of visits from there. The Galactic Mage landing page is getting tons of hits and video views, and the bounce rate for that page is almost 60% where all the other pages are in the 30s and 40s. Normally I would say that 60% figure is bad, but since the call to action on that page is essentially "Leave now and go to Amazon to buy," I think that page is actually working as planned. It's arguably the most interesting page on the site, and it has the higher bounce rate, which probably indicates success on the point of sending people off to Amazon. But again, I have no way of proving that.
Amazon is the only one who knows where the traffic is coming from on their sales page, and I can't find any reporting from them that lets me know. It seems insane to me that they wouldn't want me to know what parts of my marketing efforts are working, so that I can replicate them. If I'm spending money or time on marketing that doesn't work, I can shift to what is working. They make more sales when I do.
They get a really good cut of what I sell (I only get $1.71 out of a $14.99 paperback. My percentage is much better for the Kindle version, but still, sheesh!). So, to me it seems like they should WANT me to know what is working, since I'm paying for it, making it essentially free marketing for them. Eventually they'll kick in; if the book sells enough, then they'll notice it and start to kick in too, push it around in places and let people know it exists (that's the point of hitting the 1000 figure mentioned above). But why not help out in the beginning by just releasing the numbers? I'm not asking for email addresses or other information on the people reading. I know why they don't want me to know that: they don't want me to go direct for book two and three. I get it. And I also get that they provide a really great system for selling, so I'm not bitching, despite how much it seems like I might be. But my point is that reporting should be more detailed. They should be assisting me in increasing sales by giving me the insights I know for a fact they have. Seems paradoxical to me.
Anyway, that's where I am right now, driving towards that first 1000, so I can, in theory, get some muscle from Amazon and the sales side. One way you can help, if you feel like it, is to write a review for me on Amazon after you read the book (which you should, if you haven't, because it's awesome). Hopefully you will have liked it and will say nice things. But, I can't control that part, so, I won't try.
If you're interested in learning more about Facebook ads and that sort of thing, I'll probably do another blog on it. I will, however, mention that I am using the "Fanreach" marketing strategies stuff that Brian Carter put together. It's a series of videos, plus he's got a blog that he covers FB topics and issues. It's been extremely useful, even if I can't actually connect the clicks and likes I'm getting on Facebook from his strategies to actual sales in a direct one-to-one way. I will say, even if you are a total scrub rookie at marketing and advertising, his stuff is totally approachable. If you are trying to sell a book or promote a business or whatever and want to try Facebook out as a marketing platform, he's been very helpful to me. His videos are very low key; he jokes around, even rambles sometimes, but all in a very comfortable and informative way. I've learned a ton from his videos. I'm charting my progress on that front, and will write about it more when I figure out what's actually happening. I'll also be covering the review process next time too. I had no idea Amazon had such a meticulously designed system for that, and one that's getting more so the more people try to game it using bribes and rebates.