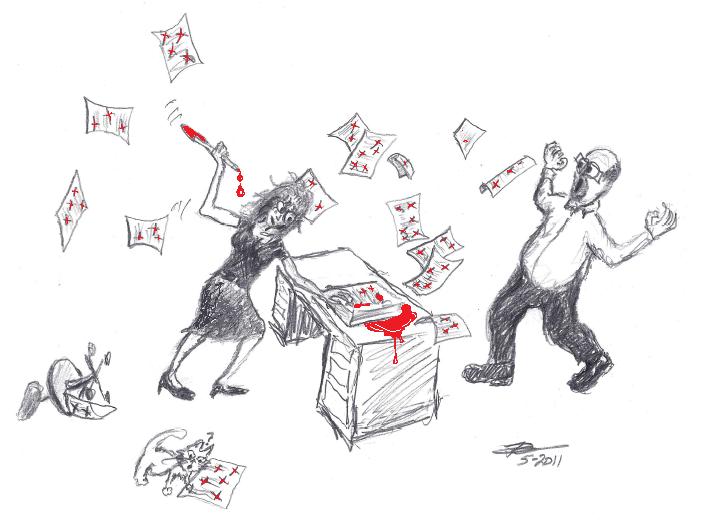 Editing is done. Today I finished going through the manuscript. My input on it is basically finished. I wrote it, went through it once after that to make it not grotesquely illiterate, and then gave it to my beta readers to get feedback on the story itself. Is the story any good? Where is it weak? How about the characters? Are they consistent? Etc.
Feedback was awesome, and I got some fantastic input that I worked in as I went through it in another round of rewrites. Then I went through it again after that, looking for inconsistencies and that sort of thing. I was also watching the language more closely too, trying to make the prose pretty. Then I went through it again for grammar and stuff (which Joyce, my editor, will laugh and call me a liar for saying given how much stuff she found, like, everywhere). Then I gave it to Joyce (who continues to laugh), who went through it lovingly and gently with her evil red pen and discovered the immense, nearly eternal, nature of my general and overwhelming illiteracy and, worse, inability to learn from previous mistakes.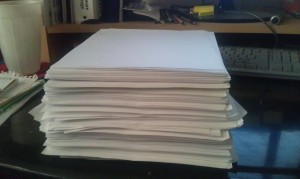 THEN, I got that back and went through that big stack (here's the picture again that some of you might have seen on Facebook), making all the corrections, or at least most of them, that Joyce suggested. Sometimes we disagree on stuff: she goes with a rule where I go with a purpose, so in those cases where I am mooning the establishment with a particular choice of words, "wrong" punctuation or just the creation of a word that isn't one (like magicless for example), I don't take the suggestion. It's not blowing off her suggestion, it's just not taking it for other reasons. I'd rather have all the "rules" pointed out, so I can make sure I'm breaking them on purpose not by accident. All said, it works between us.
So, I did the red-mark thing, which is painful for me; it's tedious going page by page, looking for red marks on the paper page and then having to find them on the file, because the file changes in little bits and the last line on pages sometimes becomes the first on another, etc. (and yes, I know Word docs have a comment function, but there is, for whatever reason, a real benefit to at least one editing pass on paper).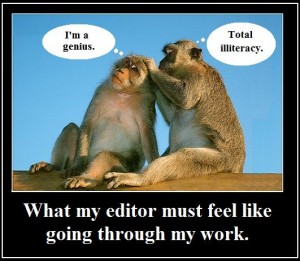 Anyway, I made that pass and corrected things, and then I went through it again, which is what I just finished. I would have done it anyway, but because I finished the first draft of Hostiles (Book 3), it was even more important to go through and make sure all my ducks line up through the two stories. Plus, I found four typos and two instances of "a while/awhile" that I put in wrong that got by her. And before you start pooh-poohing her for that in your mind, you try going through 924 pages and only missing 6 little things, that's 257,092 words of never overlooking any problem with any of them, which translates to an error rate of 0.002334%. I wish I had an error rate that low. In anything!
That's handled, so now I sent an email to the guy who does my formatting. He will make a print file with pretty drop-cap fonts on the first lines of the chapters and margins set for printing, etc. He is also going to have to figure out how to make my 924 page manuscript fit into an 828 page book, because that's what the max length can be for the paperback edition. It's really going to change how much front material I have (acknowledgments, copyright page, dedication page, title page, pages where I pimp my other work and beg people to buy my stuff because my cats are so cute and hungry, and even the map, which I want to put in again just for a refresher in case anyone forgot what Prosperion looks like). So, we'll see. Being that thick of a book means that the inside page margin has to be a little wider than book one, which reduces text area, and obviously I'm already going to have to drop a font size. Which I mentioned in another post I believe, and I still don't like. But, it is what it is.
I'm not happy with what I'm going to have to charge for the paperback either, which I think I mentioned also. So I'm going to set the price for it as low as I can, but it's probably going to end up $19.99. I know some people will complain it's too high, even though it is a big-ass book, but I can only give away my profit, not Amazon's, and at that price, I make a third of what I make on a $3.99 ebook. Isn't that crazy? But it's fine, at least from my perspective. Maybe not for people who don't have e-readers. (sigh). All I can do I shrug and say it would be cheaper if I had any say in it. That said, I get why: it costs money to produce a physical book; plus, it is a lot of pages; they have overhead, machinery; all that stuff. I'm just glad to have a channel for paperbacks. I like real books more than ebooks still, geezer that I am, and I would love a big fat book like this one will be. A "door stop" as someone said to me the other day. Plus, I think it's awesome, so that makes it totally worth it. If you read 30 pages an hour, which I read somewhere is about average, that's 27.6 hours of epic science fiction and fantasy entertainment. For 20 bucks, that's $1.38 for an hour's amusement, and that assumes you only read it once. Way more cost-effective than a movie or even a song in iTunes. (See all those years I spent in sales paying off for me right there?)
So, that's where it is: email sent to formatter waiting for formatting timeline, hopefully fast, hopefully only two or three days. When he's done, I upload and order 10 proofreader copies or so, overnight delivery. I'll get them about 4 days after, then, tic toc tic toc, while the proofreading goes on. Then, I will send the list of typos etc., back to the formatter; he'll fix them; then another proof copy for me to verify; and if it's all good, it's out. If you're a math person and an optimist, you will see that we are talking about 11 days in a best case scenario for the predictable parts, and without including any time for proofreaders to actually read. So, if we add in 5 days for super fast, motivated proofreading given its length, that's 20 days. Today is December 3. That means, December 23 in an absolute perfect universe where nothing goes wrong in any way.
Cross your fingers for perfect. Don't hold your breath, but cross your fingers for sure. Bottom line, it is right there, soooo close. I'm guessing realistically January at this point, but I'm hoping I can still hit my "late 2012" mark (since I already missed my November mark—sigh, again). Regardless, I can't wait. I'll be releasing the cover and the video soon too, so keep an eye out here or on Facebook.