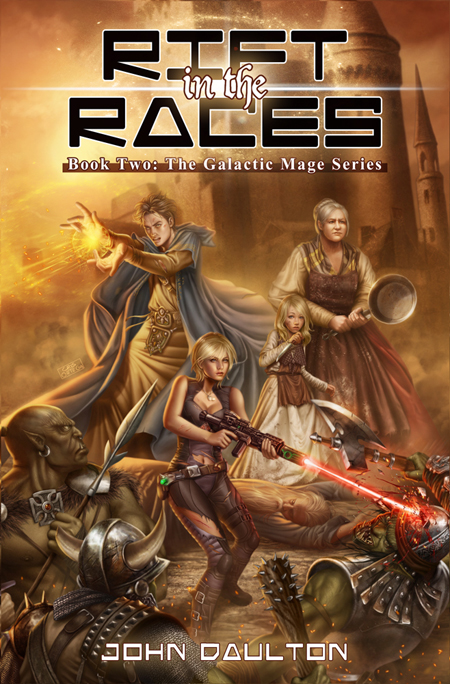 I said at one point that I would release the preview of the front cover art for Rift in the Races when I got the proofreader copies in. Well, today I got the proofreader copies, so as a man of my word, here is the front cover (you can see a small and big version in The Galactic Mage art gallery here on the site). I'm still holding the full cover secret for another few days, so you'll have to wait to see the whole full-cover image—which includes the outcome of Altin's spell you see starting up right there, plus what he's shooting at, etc. but there it is.
I'd like to point out that Cris Ortega is amazing and I can't believe how beautiful her work is. I showed a small part of the image of Pernie in an earlier post, and I thought now would be a good time to show the full image of her close up so everyone can appreciate the incredible level of detail that goes into Cris's work. It's simply mind-blowing.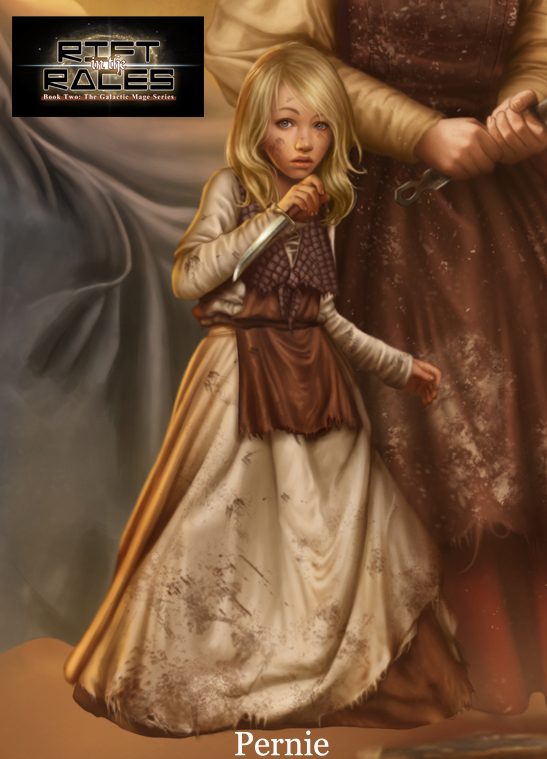 Isn't that awesome! I love this character so much, and Cris certainly put the same amount of love into illustrating her onto the cover. I'm so pleased I could pop.
Anyway, rather than go on and on about it, I'll just say, there it is. Stay tuned for the rest, and also keep your eye out for the new Rift in the Races book trailer video as well. I'm not exactly sure when I'll post that, but that will be soon, probably within the next week to ten days. It's got a very cool driving-energy type song, even more so than the last one had, and I think Mike—the guy that builds my videos for me—did an epic job on it. So keep an eye out for that bit of fun too.
Release date for the book still looks the same, very late in December or possibly first week or two of January. It is still dependent on how long proofreading takes, how many errors they find, and how long it takes for my formatter to go in and make those fixes. Plus, obviously, I have to wait for the new proof copies to get shipped to me after fixing the errors on the print files, which only took three days do arrive the first time (a pleasant surprise), so hopefully that will happen again. Actually, hopefully there will be no errors and it will be ready to go, but I seriously doubt that. It's amazing how typos and little things slip under the proofreading radar. I used to have little hissy fits when I'd find typos in big-name books I bought, but now I see how it happens, so I'll be kinder with my thoughts, big name author or unknown.
So, that's all the news I have. Hope you like the cover. Don't forget to like it on Facebook if you are into that sort of thing, since that will help me get it off the ground come launch time. And, well, that's it for now.