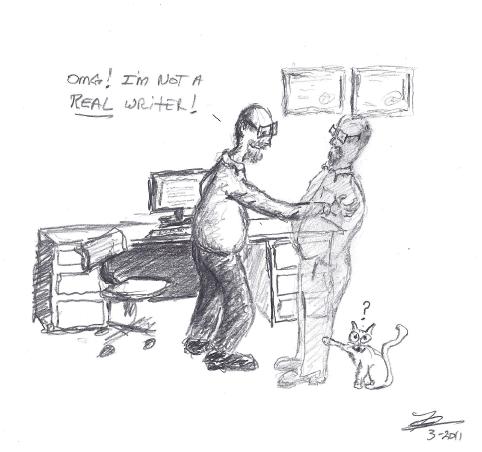 I'm writing this for a writer friend of mine who is struggling right now as an artist. She's hit a rough patch on the already rough road of writing, and now she's wondering if she even is "a writer" at all. She's wondering if she is "a real author" at all. And I've seen other people ask themselves this question a lot. I've seen them beat themselves up about the very same thing they love. I've seen long debates on writers' forums about indie authors versus traditional authors, different people arguing about whether indie or "self-published" (a pejorative to many) are or are not "real" authors from the start. Some argue that people who write, no matter if published at all, are writers. Others will say that a writer is only a "real" author based on some abstract criteria they've dug up, some corporate approval thing, etc., while some others affix any number of arbitrary sales figures or income figures to their understanding of what it means to be a "real" author. Again, etc.
I think they are all missing the point.
Perdurance is a word I first heard in a metaphysics class. It's also a word I am dedicating to my friend. And to all my fellow writer friends out there, whether I've met them or not. Perdurance is what I think my friend, and anyone else out there, needs to understand to find joy in their work, their art and their career. And since I know it's not a commonly used word, or even a definitively defined one, I'll explain it as best I can. And please, indulge me just for a moment in this. I believe it matters.
Perdurance is a type of existence. In the metaphysical context of this word, there are two types of existence, enduring and perduring. The difference between them is everything.
Enduring objects exist in three-dimensional space. They are "real." An object, a person, a thing that endures does so in a complete state. This article, for example, when you came to my website, you could see it. A whole patch of words all stacked up start to end. You didn't have to read it to see it, but you could see it. It was all there. It was a thing. An article. The chair you are sitting on right now. That too is an object. It is a complete thing that endures. Stephen King is an "object" if you will; he is a human, even a writer or an author as you please. As he sits there right now, he is complete, nothing conspicuously missing, therefore he, like my article, like your chair, endures in that state of wholeness.
Perduring objects exist in time. While they too have physicality in three-dimensional space, that existence is ephemeral; it changes constantly. A perduring object's existence is defined by time. The best example of this is a song. When a singer begins to sing, or a violinist begins to play, a note is struck. Then another. And another. The song reveals itself one note at a time as it glides up and down the scales of sound, the melodies playing out bit by bit, the harmonies coming in and then fading away. The song takes place over the course of several minutes. The song is not finished, not complete, until it is done. When the last note is drifting away, its last echoes sounding in the rafters of the concert hall, those first notes are long gone. They have been long gone for a while. And yet, you would not say they did not exist. They had to exist, for without the first notes, there could be no last notes. Without them all, there was no song. The song is a "thing" an "object" that exists in time. It is real because it perdures.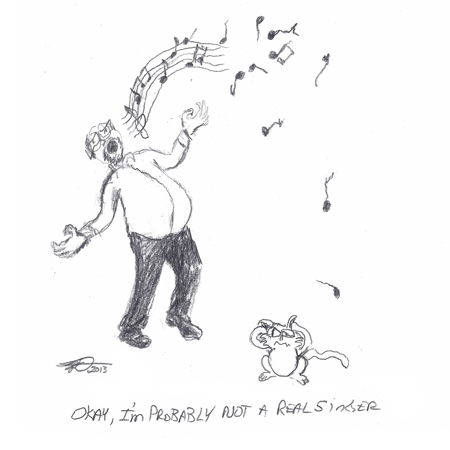 The same holds for a person. A person is a thing. An artist is a thing. An author is a thing. But they are perduring things. The you sitting your chair right now, the Stephen King sitting in his chair somewhere, exist as people, and yes, the you sitting there right now could be called an enduring thing, since you are a physical, fully-constructed human. However, you also perdure. You are still the same you that was born one day long ago, are you not? The same person who went to kindergarden? The same person who had that first kiss? You certainly did not look the same in any of those places and times as you do now, just as the notes in the song are not all the same. And yet there you are, the very same you. Different, but the same.
That is because you perdure. The enduring you only ever exists in a moment. Take a photograph of yourself. That is enduring you. Only then. Everything else is perduring you, the song of you.
To my sweet, fretting friend I have only to say that the song of you is still singing. The author you is still being sung, as it has been since the first note, the first word you ever wrote. Of course you are a real author. A better question to ask yourself is which part of the song are you on.
So take a breath and enjoy where you are. It is not where you will be, nor is it where you have been. But it's all you, and it's certainly all real. It's actually more fun to worry about whether that you in the photograph, that moment where you captured enduring you, is real. Because, really, that's just a photograph in your hand.