As I sit here in my study this Veterans Day, writing sci-fi and fantasy like I usually do, it struck me how fortunate I am to be, well, sitting here in my study writing sci-fi and fantasy like I usually do. Something was bugging me as I worked—making stuff up, dreamy, silly stuff in the greater scheme of things—and I felt like I ought to write something else today.
Perhaps it is merely a coincidence that I got an email from my young nephew yesterday. He is in the Navy, and from time to time he sends an email to us, to family and friends, catching us up as much as he is able on his most recent experiences. As they usually are, this missive was mainly personal things, relationship stuff, some fun stories of shore-leave, drinking establishment adventures of the variety I fancy I would have enjoyed had I had been a sailor too. But in this email also was the description of a particular stormy day at sea—one that he delivered in a way that gave me pause. He seemed fine with the experience he detailed, almost glib, perhaps, and so at first read, I didn't think much of it. But it kept coming back to me last night. It kept coming back to me today.
… Unfortunately on day three me and my seaman [name omitted for anonymity] were fixing a flange on a copper pipe when we took well over a 45 degree roll to port. I had a good footing but she was on the slick part of the deck and she went sliding. For some reason I thought it to be a good idea to dive after her; she fumbled with a pipe on the bulkhead till I got a death grip on her wrist and the bulkhead. We both look down to see nothing but water, and it was less than ten feet from the 25mm gun mount. Be mindful that this mount is approximately 90 feet above the water. We roll back up, and I see this slightly hilarious look of death in her eyes. She goes to move and I tell her to wait because, as I guessed it, another massive roll to port …
So here's this kid that I have known and loved since the day he was born, dealing with that. A kid turned to a man. And that's just "another day on the job" so to speak. This is what these people do for us every day. And worse. Much worse. It's astonishing to me that anyone ever signs up to serve. I certainly never had the spine for it—I can only imagine the spray of urine and shrieks of terror that would have issued from me if I was in a boat rolling about like that, even if I was below deck and duct taped to my bunk, much less dangling 90 feet above the raging sea—and yet they do it. They willingly give. And so many do.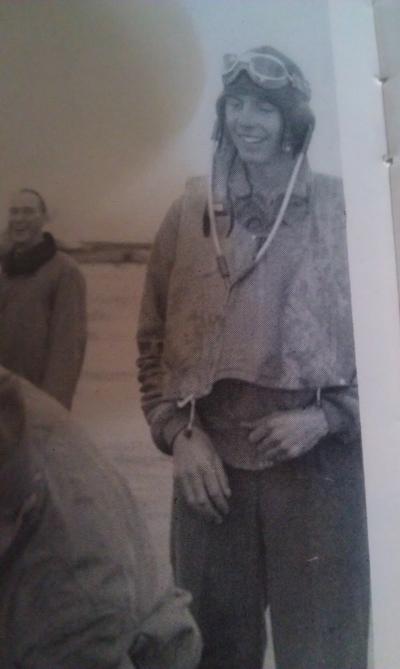 My grandfather, from whom I got my first and middle name (John Frederick) and who just passed away two years ago, was a pilot in World War II. He was a Lieutenant Commander, pilot and flight instructor. He also piloted PBY Catalinas on rescue missions in the Pacific theater. In doing that last one, his plane got shot down once, but he managed to land it on the water without it breaking up too bad. He and his navigator were able to limp along on one engine, floating toward Hawaii until they were located and rescued, which took a while. The Navy actually sent people to my grandma's house to tell her he'd gone down, but she said she already knew before they got there. She had felt it, somehow.
My grandfather only talked about that once to me. I'd heard the story from my mom, and I asked him about it because I thought it was a glorious tale and that he was very brave. He told me he was scared as shit.
So as I sit here, with a child of my own signed up and heading into the Navy come February, I realize what it is we all have here in America. Me, writing my stories of dragons and space ships. Me in a country where I am actually free to make a living doing such an absurd thing. I realize what it takes, what is has taken, to purchase that freedom, to build a country so vibrant, so strong that someone can actually make up stuff about magic and aliens and actually make a living at it. THAT is a fantasy. A fantasy so luxurious it's nearly perverse. Many have done more than dangle from the side of a ship at 45 degrees, many have suffered worse than a crashing plane and being scared as shit. Many continue to suffer right now. Many have given everything. Literally. Lives were sacrificed for this life of mine, of ours, of yours. Lives. Fathers, brothers, husbands and sons. Daughters, sisters, mommies and wives. Cousins. Uncles. Friends. My God, it's hard to fathom it, to even wrap your mind around the smallest portion of it all.
So, anyway, I'm not trying to be a downer or melancholic or whatever, but I just thought I'd stop writing about my fictitious soldier Ilbei Spadebreaker and write about real ones. I thought I'd stop indulging in my great luck and the tremendous opportunity afforded to me by the liberty others have won for me, and take this tiny, insignificant and unworthy moment of mine to say thank you to all of those real soldiers and sailors and airmen and Marines who have served and are serving. And thank you to my grandfather, my nephew, my cousins, my uncle, all my many friends who have served. And thank you to my son. I tremble just thinking of that. Thank you. I know that's not enough. But thank you anyway.

….
The following are a a couple of pictures I took of pages in the magazine (I have an actual copy). They're very old an fragile,  and the magazine is too big for my scanner, so  didn't want to mangle it trying to mash it around on the glass. So, this is what you get, taken with no flash no less since that's not good for it either. I'd take more, but there's still 23 months left on the copyright, and I think more photo sharing would start to challenge the definitions of "fair use." So maybe check back in two years and we'll see.