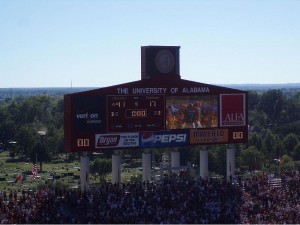 I get asked "how I do it?" when people find out I write novels. And these aren't just random people asking, people who can't imagine writing six hundred or nine hundred page books because they hated writing essays in high school or college, these are writers who ask. I hang out on a number of writer forums and social media groups, and there are many really amazing, creative talents out there who want to write a novel, but they can't seem to do it. These are the kinds of folks who try NaNoWriMo every so often, but never make it through—or they do make it through, but the novel isn't done at the end, so, it sort of languishes and dies on their hard drive. It's frustrating, and discouraging. But I think it's because most people skip an essential tool: the scoreboard.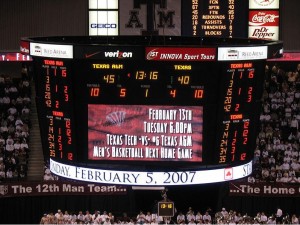 Writing a novel is like playing a game against yourself. You have your "dream self" and your lazy and/or distracted self. And, like any other big-time game, in the end there is a winner and a loser. The way that winner and loser are determined is by the score. Not by intent, not by desire, not even by talent. By score.
300 pages as opposed to 60 pages is a score.
Scores are tracked on scoreboards. All the sports do it. And they make them big. They're huge, hoisted way up high so everyone can see them, up on poles in the end zone or on huge monitors hanging above center court/field/ice. There is no possible way to miss them. But why? Why is the score such a big-ass deal that it gets such massive display treatment?
Because the score matters.
The score is, in a way, everything. It is the indicator of victory. Without the score, what are you doing? Without the score, football is just a bunch of big brutes mashing into each other. You got a guy lining up under the guy at center, reaching into his crotch and touching his butt with his chin? Then they throw balls around. WTF is that? Without the score, it's all meaningless. Score matters.
Quite often, score is a measure of two things: progress and time. The side that has the most progress at the end of the time wins. That matters.
So, when you are writing a novel, you are in that kind of game. Most writers, especially those who have taken a stab at NaNoWriMo, or who just spend any time reading about writing from the big time writers who write about this stuff, know the basics of setting up this game. But if you don't, here's a quick refresh.
How to Set a Basic Novel Word Count Goal
Set a novel length you wan't to hit (60,000 words is a nice short novel, and a good place to start).
Set a REALISTIC daily word count (1,000 words per day is extremely doable, especially for the first novel and/or for someone with a full time job. For comparison to that, I use 1850 for my minimum, but usually hit around 3,000 per day, and sometimes get as many as 9,000).
Set a date that you would like to be done (this is your total word count total divided by the daily word count goal plus a few days off. Example:  60,000/1000 = 60 days, and then add in some days off per week. 60 days is two months, so if you give yourself 1 day off a week, roughly 8 days. All said and done, you have a total goal of writing 60,000 words at 1000 words a day, with 1 day off a week, and being done 68 days from the day you start. So, if you start on October 1st, you will be done on December 7th).
So, that's the part most writers already know, or have at least seen somewhere but never thought too much about. But what doesn't happen from there, and what I believe is a huge, huge mistake and cause of failure, is that people set up their game with those goals, and then they don't have a scoreboard to track it.
How can you possibly know in a real and immediate way, with the flick of your eyes, whether or not you are winning the game if there is no scoreboard? Humans are visual creatures. Our eyes are huge parts of how we process what is important. Our eyes are forward looking, predatory. We evolved that way. Cows and horses and deer, prey animals, look off to the sides. Wolves, hawks and… us, our eyes look forward. What we see matters in a deep and visceral way, intellectual and emotional. Scoreboards play into this in a very useful way.
So, all that set up out of the way, here's all you have to do to build a simple and effective scoreboard. I'm going to show you a super basic scoreboard type. I suggest you do it just as it is here before trying to make them more complicated or more simple. Make the tool work for you first, one time, before you go redesigning it. We'll call this the "Race with Time Scoreboard."
Race with Time Scoreboard:
This scoreboard pits you against time. Think of this scoreboard as a race. Every day, every week, will have two lanes. You will be running in one track, time will be running in the other one. Whoever gets to the finish line first wins.
Step One – Calendar and Colors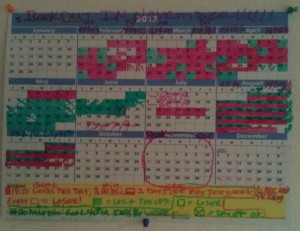 Get a calendar of whatever size you like. Personally, I like a year-at-a-glance calendar like the one you see here (this is my 2012 calendar underway). I get these at Staples every year and they are cheap. Plus, they are made for dry erase pens, which is also cool. However, any calendar works. I used to use Boris Vallejo calendars, but a Raiders cheerleader calendar or a horses calendar or hot firemen…whatever you are into is okay as well.
Get some bright colored markers, highlighters or dry erase pens. Get colors you like. Or, get one color you hate for the timeline, and another you love for progress. Success is not without an emotional component, so have fun with it.
Step Two – Mark the goal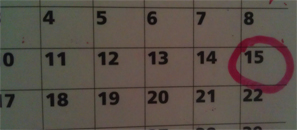 Now you have your calendar, mark the date for completion. This is the goal, the finish line, the end of the game—it's where effort and time collide. If you don't have a finish line, you have no way of knowing if you are winning or losing, and progress for the sake of progress is hard to sustain. Who wants to just keep working every day with no ending, no goal, no objective… just work? Um, no one. Not having a finish line is why so many people fail at finishing their books (and, frankly, other big goals be it college, weight loss, or whatever—this strategy goes way beyond just novels).
Step Three – Draw a horizontal dividing line

Split the days/weeks into two parts, two "lanes" or "tracks" if you will, one for time and one for your progress. You can do this neat and fancy, or you can do it quick and simple, whatever your taste (as you can see, I tend to go for quick and simple). As days progress, you will fill these in. This is the race track where the green timeline in lane 1 (top) will race me and my progress in lane 2 (bottom).
Step Four – Mark in daily word count goals

If the goal is 1000k words per day, for each day, write in what your total should be if you are on track. So, on the day you plan to start, you write 1000 or 1k in that square, then on the second day you write in 2k, etc. through the month (or months). You can write it in light with pencil, or do like I do, which is write it in with the color that will be using to fill in that "lane" when I reach that point. It doesn't matter how you do it, just get the numbers down. Doing so makes it easier to mark scores every day without having to do math based on weekly totals and days off, etc. When you reach a certain word count, whatever day that is on (ahead of time or behind), that is the day you will fill in the square (your lane of it) with that value. Simple.
Step Five – Fill it in every day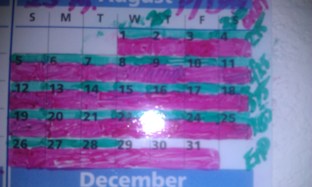 One thing about Time, it never misses a day. So, every single day, you will have the green line advancing one calendar square, whether you wrote anything or not. That means, to beat time on my chart here (August's shown here) I had to do my goal every day and, when possible, a bit more. If I fell behind, if I skipped a day, the green line started to get ahead of me. If I looked up at my scoreboard and saw that I was a day or two (or three!!!) behind, I HATED IT, so I'd crank it up a notch, stay up late, get up earlier, whatever, and get back on track.
When you look at your scoreboard, you know exactly how many days and words off (on or ahead) you are, and, not just that, but how that relates to your goal. It doesn't feel good to be losing, and seeing yourself behind kind of works like a smack on the knuckles from Sister Mary Merciless and her yard stick to get you going again. On the flip side, seeing you are winning is great. It's fun to win, and winning makes you FEEL GOOD.
Instead of having to wait until you are done with a whole manuscript to get a boost of pride (or settling for the fake reward trap of letting someone tell you how good your first chapters are because you stop writing and go for feedback instead of writing through to the finish line), you can feel good every single day when you color your square in and stay on target for your goal. It's a smaller reward, but you get one every day if you stay on it. Coloring in a pink square ahead of a green one is the writer's version of a touch down or a slam dunk. And it's not just a metaphor. I promise, these are real endorphin rushes that do wonderful things for your sense of personal joy and even for your health (not to mention your dreams about writing).
Step Six – Win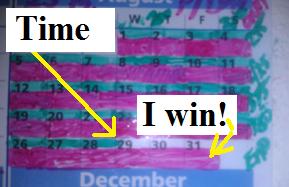 Work every day. Take your days off if you must, but never more than your scheduled number. A 1,000 words a day is just not a lot to ask of yourself, if you really want to write. This blog entry is 1282 words long right now in the first draft version (probably longer by the time you get to see it), and it's taken me just under forty minutes. Yes, I write a lot, yes, I type fast, and yes, this is not the sort of prose one expects to have in a novel (thank god, lol). However, the point should not be lost on you. If I can crank out 1282 words in under an hour, surely you can devote an hour or two to achieving your novel goal by getting your 1,000 words a day every day for sixty days with only one day off a week, or less.
Don't fall behind. Write every day. Don't get caught in the trap of: "Well, I'll skip today, but make it up tomorrow." That's Pro Crastination talking. He plays for the other team.
Think about it: football teams don't ever say, "You know what, we're going to skip the next set of downs, and just punt on first down this time. We'll make it up next series." Pro golfers don't choose to skip hole six just because they don't feel like it and just go for an eagle on hole seven instead. Nobody living "the dream" does that. Don't skip days. Make your word-count goal reasonable, fill out your scoreboard EVERY DAY, and enjoy how it feels to finish a novel. (This approach can actually be used for ANY big goal, be it weight loss, rebuilding an old car, making a quilt, growing a sales territory… you name it.)
So there you have it. Feel free to email me if you have any questions, need advice figuring out a scoreboard for revisions, editing or marketing—or even if you just want a terse, probably sarcastic kick in the pants from a guy who doesn't take whiny excuses for not getting meaningful shit done.