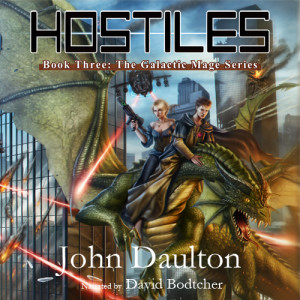 Well, David Bodtcher has done it again! Another incredible performance awaits audio book lovers as Hostiles is just about to hit the Audible.com shelves. Bodtcher's range of voices in this one is mind blowing. The story required vocalizations not only of humans and living Hostile planets, but orc shamans and even a demon God. Man, Bodtcher just nailed it all.
This audio sample  is an exclusive for readers on my website (and my Galactic Mage Facebook page), because it's a little too sexually suggestive for a free sample on a public site like Audible. No sense pissing off the hyper-sensitive types who might be casually browsing. You, however, if you are here, probably aren't wound up so tight, so you can enjoy stuff without requiring the whole world be Rated G. So, hopefully you got a kick out of that.
Oh, and as a special bonus, unlike my previous two audio-sample videos, this one includes some quick sketches I got my daughter to crank out for me to spice it up. She rocks, and I know it probably irks the crap out of her that I keep squeezing her for artwork. I pay her, but it's pennies on the dollar for what she's worth. Half pennies. Quarter pennies, really. But hey, I fed her her whole life and put a roof over her head, so she can just be grateful she's alive and do it, by gum!
Anyway, enough of me going on and on. I'll be posting the official Audible.com sample in a post in the next few days when the audio book version of Hostiles, the Galactic Mage book three is finally released. It will be any day now.