Well, here it is. An early look at the cover of Hostiles. I'm stoked!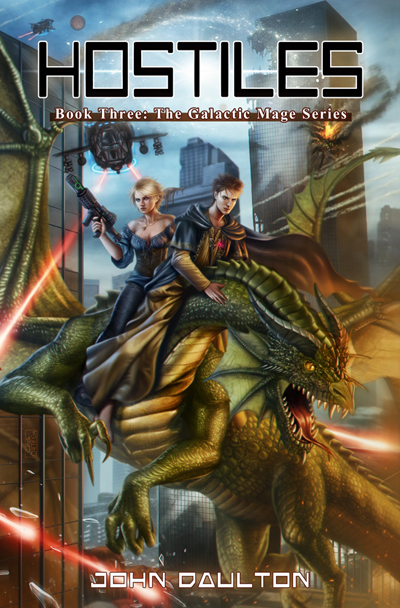 I got the final cover files from Cris Ortega last night, and I am so excited and so pleased with the cover for Hostiles that I can hardly breathe! And while book three of The Galactic Mage series is still somewhere around five weeks away, I decided  to reveal the cover now just as a treat for all of those readers who have been patiently waiting and who have been supporting and encouraging me through the process along the way.
I'm still stunned by Cris Ortega and how amazing her work is if you want to see some of her other work). I mean, just look at the detail. Look at the dragon! Look at the clothing! At the reflections in the glass! I mean, I see this and I just can't even fathom how anyone can be so wonderfully precise with details on people and on things that don't exist except in the mind and on the written page. It's so awesome.
It's kind of funny too, if you compare it to my original sketches. In fact … okay, so for a bit of fun (even if it's going to end up being at my own expense), I suppose you might be amused to see my original concept sketch. So, below is what I sent to her to get the cover idea started, and yes, it's terrible, and yes, the dragon's head is actually off the edge of the paper, and (sigh) yes, my idea was so scatter-brained that I ended up drawing this on three pieces of paper taped together.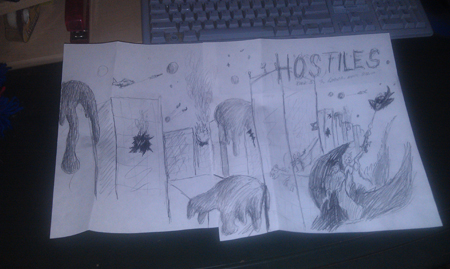 I know, right? Pretty terrible. But, still, and fortunately for us all, Cris Ortega is brilliant, and she was able to translate that train wreck into something that didn't suck. I probably could have sent her a picture of an old shoe, and she still would have come up with this cover anyway. I just can't get over how awesome her work is. And, just so you can see the full effect of her work, here's the whole cover front and back.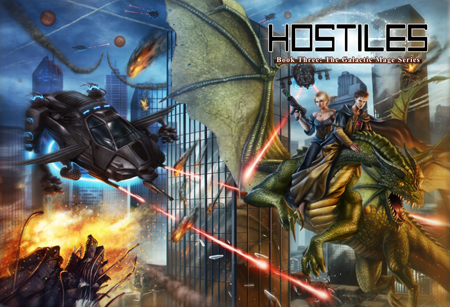 Isn't that just mind-blowing? She's so amazing, and so thorough, and, perhaps most amazingly, she puts up with all my crap too. For one, I'm picky, but she does all the little tweaks without one word of complaint. For another, I'm a scatterbrain, which makes her job more difficult. I think there was probably a day there at the end, where I'm lucky she lives a continent away or she might have brained me if she had a chance, because, well, I screwed up the dimensions a little and she had to go back and redo some stuff.
You see, to make a full-cover image for the paperback editions of Hostiles (or any book), you have to calculate how big the actual image needs to be. A full-cover means it has to wrap around the whole book: front cover, spine of the book, and the back. Front and back are easy to figure out because the paperback page size is 5.25" by 8". Piece of cake. But the spine is the tricky part, because the width of the spine depends on how many pages, how many pieces of paper, are going to be stacked inside of the book. And even that wouldn't be complicated … if the book was DONE.
Here's the thing: Cris has to work with me as I am working on it because I am kind of a spaz and don't have all my ducks in a row with anything. I don't know exactly when my books are going to be done, for one thing, because there are a lot of squishy steps as I go through revisions and beta reading, so I can try to predict a finish date but they are always just total guesses. Furthermore, Cris is, as you can imagine, in super high demand, so I can't just call her up and say, "Hey, Cris, I just finished another one. Need you to jump on that tomorrow, okay?" Because, well, when she was done laughing at how silly that request was, she might have some more spicy language for me as well … which would be fine, since my Spanish is pretty bad anyway, so I likely wouldn't know what she said. Nonetheless, that's not how it works, so I book a spot on her schedule far in advance and as close to where my book should be close to done, and, well, we make it work from there—or, technically, she makes it work as she deals with my terrible drawings and bad math, and I reap the rewards of breathtaking covers.
Seriously though, she's amazing. I'm so, so lucky. You are so lucky, because you get to see this awesome artwork before anyone else. So just for fun, here are a few close ups of some of the cool stuff. Enjoy.
Altin Meade and Orli Pewter: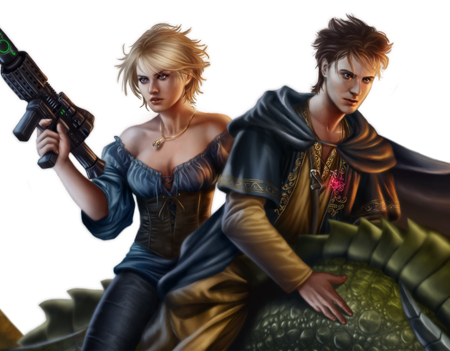 Awesome close up of Taot's face: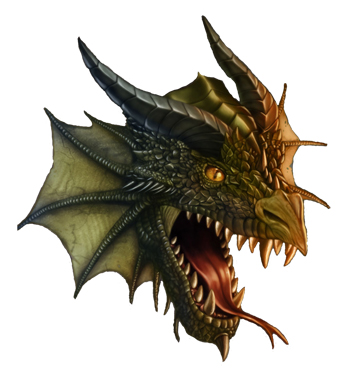 Northern Trade Alliance (NTA) Security: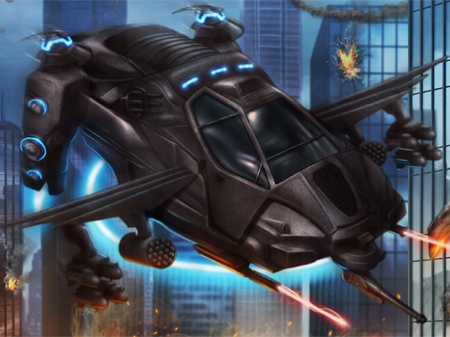 Okay, so that's all you get for now. Hostiles is coming very soon. I'm waiting on Fernando to format my files so that I can print galley copies for my proofreaders. If Fernando gets right on it, and if proofreading can be done quickly, the third book of The Galactic Mage series could be out in four weeks. I think five or even six is probably safer to say, but bottom line is, that's where it is. Really close. If you're excited, don't forget to tell your friends about the series. If you want to be notified the moment it comes out, sign up for my newsletter either at the bottom of the page, the top of the page or just click HERE.
Also, if you want to check out some of Cris Ortega's other work, here's a link to her website: Cris Ortega homepage.
Copyright 2013 © John Daulton. All images appearing on this page and on this website are copyrighted and all rights are reserved. No use or reproduction of these images is authorized without express written permission of John Daulton.