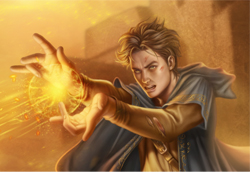 So, I have all the art files for the new book cover now. All I can say is, "Wow!" While I confess to already being a total Cris Ortega fan, especially after how amazing her work was on the cover of The Galactic Mage, I am so completely blown away with how much control she has of light and texture and, just, everything. She's got a level of mastery that it's hard to comprehend—and I'm sure I don't actually comprehend it, but it's fun to try to fathom anyway. She's definitely one of the top fantasy book cover artists working today.
And something to keep in mind on that front is that I am not without some artistic ability—I am better than just those silly sketches I use in my blogs, I'll have you know… although not a lot better, maybe. I don't pretend to be remotely in the same artists' universe with her, or even with my young daughter these days—alas, even those days are long gone now—but I am trained and accomplished enough myself to know when something is good. I know what technique looks like; I know what control looks like; and I know how hard it is to get something that's even remotely close to good to come from my own ideas, much less from someone else's blathering attempt to describe what it is they are seeing in their head. But for Cris, it just comes out amazing every time. Like super amazing.
Okay, so, enough set up and glowing adjective-ridden praise. I'll just give a small glimpse of how amazing this cover is instead. I am keeping most of it secret still, but since I've already shown the image of Altin in an earlier post, an image from the color sketch phase of cover development, I don't mind including the same segment of the cover as it looks now complete. That's what you see up above. There's some fabulous light effects that come from some fun stuff I'll reveal later on, but for now, that's a peek at him.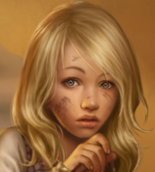 The next image I'm going to show (right) is one of the most fun characters I've ever gotten to write about. Hopefully you can guess who that is.
I just love that character. I realize that Altin is the badass—and he gets way more badass in Rift in the Races—and I know Orli is the beloved heroine, but they get so much page time, that whenever a scene comes along in which Pernie is a part (yes, I gave the answer away if you weren't sure who it was), I always have a little extra joy. Writing Pernie brings out interesting facets of my other characters in ways I really like. She's like a bright light that shines on a diamond just right, from a different angle that highlights things you didn't see before. Plus, it's fun to write someone who is brutally honest and who likes gore in that weird and fun way Pernie has. Plain and simple, she's just fun to write. And so, since she is so fun, and since she's got a spot on the cover of book 2 in the series, I decided I will feature her in this post. So, there is her cute little face, rendered in amazing and wondrous detail by Cris Ortega
So, there you go, a little preview of the cover of Rift in the Races. An epic shot of Altin casting something and an awesome picture of Pernie's face, sweet, innocent(?) little creature that she is. I may reveal a little more as November approaches (yes, I'm still hoping for November as a release date… keep your fingers crossed), but we'll just have to see. All I know is, right now, I am stoked. Thank you, Cris Ortega. Your awesomeness rocks.