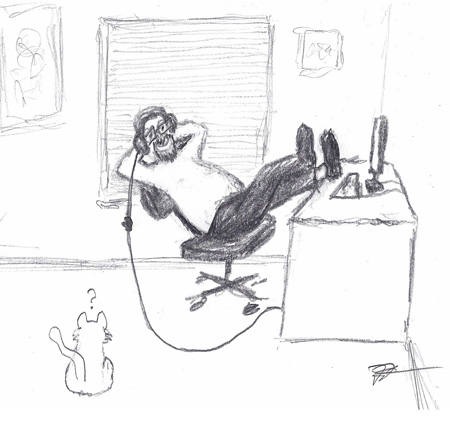 For a long time I'd been kicking around the idea of getting an audio book version of The Galactic Mage done, but writing Rift in the Races and then working on Hostiles has been a lot of work, and I just didn't get around to it. I knew I should; I knew my wife liked to listen to audio books, and I'd even tried listening to one a few years back, but it just wasn't a big part of my universe, so, being human and all, I just didn't think about it all that much. Besides, I didn't really know how to get an audio book off the ground, who to talk to, upfront costs … all that stuff, so it sort of stayed on back-burner status for, well, permanently.
Then, a couple months back, I got an email from a guy who told me that he is blind. He said he's got friends who have highly recommended the story to him, but that when he tried to find an audio version, there was nothing there. And he was right. There wasn't.
I felt like crap. For one reason, because I had someone out there who wanted to check out my story, but I had procrastinated on getting the audio out. I felt like I had let down a customer, a potential fan even. I had. And for another reason, I felt bad because, as a business person, there's a market out there for it I hadn't had the discipline to get going on. There are lots of people who like audio apparently, and it's not only visually impaired people, but people working at monotonous jobs or jogging or walking on treadmills or taking road trips, etc.. There's tons of people who listen to them. It's actually a pretty big market when you put all those potential listeners together. I should have made the time, and I felt kinda lazy on one hand and kinda like I neglected people on the other. But hey, better late than never, and, for what it's worth, it is a lot of work. Yikes, but it is a lot of that. But OMG it is so amazing now.
So, speaking of amazing, I thought it would be cool to share a little sneak peak, erm, a little sneak listen of the "sample" that will be on Amazon / Audible.com and on iTunes when it comes out. Which, by the way, will take place on a date I'm not quite sure of yet, but I'm thinking somewhere in the next two to three weeks. I have to go through some revisions (or "pick ups" as narrator David Bodtcher has taught me those are called) on a few more chapters, and then it will be ready. We'll be submitting the files to Amazon probably tomorrow night, and then it is a matter of them doing whatever they do to make it live.
So, that said, below is a nice four and a half minute sample. For those of you who have the book already, this scene is from Chapter 5, and features David Botcher's remarkable voice talent as he captures the essence of Altin, Kettle, Tytamon and Pernie all in one scene. (Speaking of David, keep an eye for my interview with him, which I will be posting here as soon as I get through writing it up, and along with it, I'll reveal the cover art for the audio book version of The Galactic Mage.) So, without further adieu, here's the audio sample, an exclusive look that you are the first person outside of my wife and kids, and David Bodtcher of course, to hear. Enjoy:
See, told you it was awesome. Keep an eye out for updates (and my interview with the narrator) here and on Facebook. For now, expect three weeks, but I reserve the right to change that if there's some part of the process I don't know about yet. But, there you have it. I'm stoked.
Don't forget to sign up for my newsletter if you want to be notified about book releases and the occasional contest or event. Sign up form is HERE.