What an amazing ride this has turned out to be. What was just a leap of faith has turned into a wild ride that is fun and fascinating. I keep waiting for the bottom to fall out; in fact, I have been afraid to say anything or do anything for two weeks now, so sure that the least mention, the least anything would somehow curse it.
But, the marketing part of me has been telling the artsy-fartsy writer part of me, "Don't be silly. It is what it is, and it will last exactly how long it will last, good or bad, regardless of what I blog about or whether I change my lucky underpants."
So, I struck a deal with myself and told me that if The Galactic Mage hit Amazon's top ten lists for both Kindle Science Fiction and for Kindle Fantasy, I'd say something on the blog. So, here I am. I'm writing this. My wife says that the cats are going to eat me in my sleep if I don't change my lucky boxers anyway, so, I guess I might as well just throw karmic caution to the wind.
This is The Galactic Mage on the Amazon science fiction best seller charts for Kindle: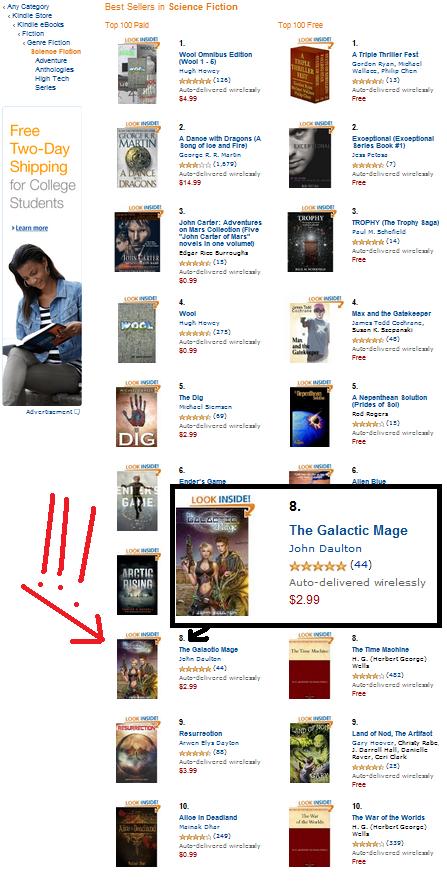 I still have trouble wrapping my head around it, but there it is. And people seem to be really enjoying it. It's getting great reviews on Amazon from readers, and not just from my mom! But real people (not that my mom isn't real, obviously), real people who have no reason not to say what they mean. The worst review I've gotten compared the love story part to Romeo and Juliet. I mean, how can I complain when the person who hates the story most uses Shakespeare as his example of what really bad love-story writing looks like. Continue reading The Galactic Mage Climbing Amazon Top Ten Lists →