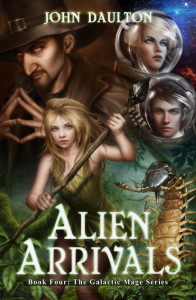 Book 4 of the Galactic Mage Series is getting close. I finally got the last comments back from my Beta readers, and they are all totally freaking raving about this book. They've always been very positive about my books, even though none of them are shy about pointing out which book they think is the best of them … until now. Now I have the lot of them telling me they think this one is the best one yet. I can't tell you how encouraging that is for me!
For me, honestly, I don't fuss too much over which is "the best." I just try to make the best story I can every time. I realize that with each new book I write, I am learning more about my craft. It would be impossible not to. So that's probably part of it. But it is nice to feel like there is still more that can be achieved in a new segment of the series.
All I am willing to say about the story that is being told in Alien Arrivals is that I LOVE writing Pernie's character. I always have, and it was really fun to be able to spend as much time with her as I have in this fourth book.
Speaking of writing, I am some two hundred pages into book 5 now as well. Yes, I was still working while book four of the Galactic Mage Series was with my Beta readers. Being a novelist is not all about getting drunk and laying out by the pool—or in my case, by the big puddle the rains left in my back yard where now mosquito babies frolic in anticipation of sucking out my juices in the weeks to come. No, sadly, the mosquito babies are on their own, as I have a lot to do.
In fact, not only is book 5 of the series well underway, I have the sixth book outline totally locked down now as well. All the way to the end. I can seriously hardly wait to get it all down on paper or e-reader screens. I am giddy with all the energy I have for this project, and from the energy my Beta readers have given me. The ongoing success of the series and the fan support only adds so much more fuel to the flames.
Anyway, that's about all the news I have. I suppose technically this is the first blog post where I actually revealed the cover art for Alien Arrivals too. I did put it up on the Home page a week or so ago, and on the book page itself, but I forgot to write a blog post with the cover revealed. So, there you have it, cover revealed for anyone who hasn't seen it yet. It's amazing, and as usual, Cris Ortega just blows my mind. (People on my email list got to see it before anyone else, as I included that with the newsletter I sent out a the end of March announcing the release of Ilbei Spadebreaker and the Harpy's Wild.)
The timeline for Alien Arrivals—which I do not put down here as a contract or promise, but more of a heads up for what I am aiming for, given how many variables there are and how much often goes wrong—looks like this (keeping in mind, this is a best-case scenario):
5/6/2014 – Finish my 3.0 revisions
5/7/2014 – Get to Joyce, who will edit it and smear red ink all over it
5/21/2014 – Get it back from Joyce (yes, this is an optimistic timeline for a 500-plus page book)
5/25/2014 – Go through and implement 4.0 editing
6/01/20 – Reread and tweak last clean ups, then submit to proofreaders
6/15/2014 – Get it back and clean up typos and other stuff, then submit for formatting
6/21/2014 – Get formatted files back, then proofread the .pdf print file
6/25/2014 – Upload final files for print and ebook
6/31/2014 – Bask in the accolades of a million adoring fans, sales pouring in, royalties afire, 5-star reviews on Amazon too numerous to count. There will be phone calls from agents and New York publishers, all begging to put hardbacks in bookstores around the world, and producers calling for movie rights and a chance to take a selfie with me. Oh, it will be sublime!
Or not. In which I case I'll still be working on book number five.
To keep up on the progress as I make my way down that timeline, you can check back on my blog, or just go to the Alien Arrivals page in the "books" section of my website.
You can also sign up to be notified when book four (and five and six) of the series come out, which is pretty much the only thing I use my newsletter for. You can do that HERE.