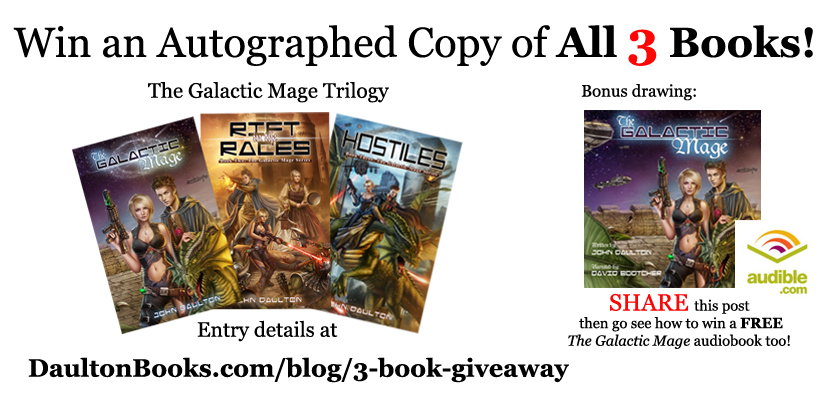 Well, my experience with the opening trilogy of The Galactic Mage series has been awesome. I am awed by how wonderful readers have been, and how willing people have been to try out a new author in science fiction and fantasy. I can't even explain how grateful I am to everyone who has bought my books, and all the emails and support I've gotten from readers have been amazing. So now, I want to give at least a little something back. Hence this contest here and on Facebook. So, here's what it is:
PRIZES:
Grand Prize – Autographed Full Set of The Galactic Mage Series Opening Trilogy
One signed paperback edition of The Galactic Mage
One signed paperback edition of Rift in the Races
One signed paperback edition of Hostiles
One signed Galactic Mage Series bookmark
Second Prize – Autographed Copy of The Galactic Mage 
One signed paperback edition of The Galactic Mage 
One signed Galactic Mage Series bookmark
Third Prize – Copy of Audible.com Audiobook Version of The Galactic Mage
One coupon code redeemable for a free copy of the audiobook version of The Galactic Mage on Audible.com
One signed Galactic Mage Series bookmark
*BONUS Drawing – Chance to win a free copy of The Galactic Mage audiobook for answering item 3 below (under "Include in the body of your email").
HOW TO ENTER:

To enter the drawing for the three book giveaway, email me using the "contact us" feature in the website menu or at the bottom of the page (or directly at my name "John" @DaultonBooks.com). Include in the subject line of  your email: 3 Book Giveaway.
Include in the body of your email:
Your name.
Mailing address where you want the prize sent if you win.
Let me know if you shared the contest post on Facebook and that you are interested in being entered into the bonus drawing for the free audiobook version.
WHO CAN ENTER:
Anyone who is not related to me, had dinner at my house, or been drinking with me to the point of ridiculousness (or witnessed such an event, whether you were drinking or not). Must be a U.S. resident, living somewhere that doesn't have laws that say you can't win or can't have fun, etc.
CONTEST ENDS:
I'll hold the drawing (random dice roll using my D&D dice lol) Sunday July 14th. I will notify the winners via the email addressed by which they submitted their entry.
To sweeten the pot for getting people to SHARE this contest with their fantasy and science-fiction friends (be it sharing this post or sharing the Facebook post for it), if I get over a hundred entries, which I admit is a stretch, I will add an extra Grand Prize. That's TWO shots at wining an autographed set. So feel free to spread the love.
LEGAL CRAP
As always, with all contests in a world of lawyers, I maintain the right to change the contest rules at my discretion and substitute prizes and pretty much do anything I want, so this is my legal disclaimer saying don't hit me up with some technical crap or trying to milk me dry based on some wanker interpretation of the rules. I make them, and you agree to them and agree that in entering this contest you aren't entitled to anything, etc., etc. Oh, and no I won't spam you or use your address for anything other than this contest. Again, etc.
Whew, that was fun. I should have been a lawyer. It's like I have a gift or something.
That's it. And in case anyone is curious, yes, if you win the third prize of the audio book code, you are still eligible to win the bonus drawing for another copy. You can give it to a friend. Also, for what it's worth on the bonus drawing, I'm not going to check to see if you shared the post, nor is it an absolute requirement that you share it to get in. It's more of a request than a requirement, and if you didn't, you can still get entered into the bonus drawing by simply answering number 3 above.
So there you go. Thank you so much for supporting my series, for playing along on Facebook, for reading, for telling friends, for reviewing them on Amazon, Goodreads and B&N. Just, a great big huge thanks for everything.
Oh, and Book 4 of The Galactic Mage series is underway. I'm hoping to have most of it written (first draft) by the end of July, and of course I'll keep updating the blog as I go. As soon as I decide on a title, I'll add a page to the bookstore where you can get quick updates on progress as I go along.